NOHT-ÉSON Working Groups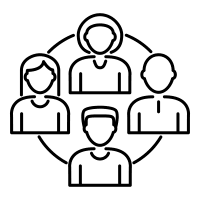 Working groups provide essential links between the interests of patients, clients, families and caregivers and the work of the NOHT-ÉSON. They are comprised of health care providers, subject matter experts, and people with lived experiences directly relevant to the focus of the group. The work of each group is administered and coordinated by two Co-Leads who ensure that members' contributions are effectively communicated throughout the organization and to the Planning Table as needed.
Current NOHT-ÉSON Working Groups
Digital Health Working Group
Diversity, Equity, and Inclusion Working Group
Communications and Engagement Working Group
Financial Oversight Working Group
Governance Working Group
Home and Community Working Group
Indicators and Measurements Working Group
Integrated Care Working Group
Mental Health and Addictions Working Group
Niagara Health Practitioner Alliance
Priority Population Working Group

Child and Youth Mental Health Sub Group
Stroke Palliative Sub Group
Stroke Care Sub Group
Working Groups Terms of Reference
The Working Groups Terms of Reference document provides a description of mandates, function, governance, policies, and procedures of the NOHT-ÉSON's working groups.
Planning Table representatives affiliated with working groups
The table in this section lists all current Planning Table members and their affiliation in a working group.
| Name | Position | Organization | Email address | Working group |
| --- | --- | --- | --- | --- |
| Shaun Baylis | CEO | Pathstone | sbaylis@pathstone.ca | Communication & Engagement WG |
| Janice Gardner-Spiece | Executive Director | CASON | jgardner-spiece@cason.ca | Communication & Engagement WG |
| Teena Kindt | CEO | Alzheimer Society of Niagara Region | tkindt@alzheimerniagara.ca | Home and Community Care/ Priority Population WG |
| Dr. Peter Tiidus | Dean | Applied Health Sciences, Brock University | ptiidus@brocku.ca | |
| Sarah Cannon | Family Engagement Lead/Family Member | Pathstone | scannon@pathstone.ca OR scannon@cogeco.ca | Communication and Engagement WG, Governance Working Group |
| Jeanne Schmidt | Specialized Services Director | CSCHN | jeanne.schmidt@cschn.ca | |
| Marcel Castonguay | ED | CSCHN | marcel.castonguay@cschn.ca | |
| Sean Keays | CAO | Foyer Richelieu | sean.keays@foyerrichelieu.com | |
| Patrick O'Neill | CEO | Niagara Ina Grafton Gage Village | patrick.oneill@niggv.on.ca | |
| Lynne Pay | Vice President of Corporate Services & Interim CEO | Hotel Dieu Shaver | Lynne.Pay@hoteldieushaver.org | |
| Tara McKendrick | Executive Director | CMHA | tmckendrick@cmhaniagara.ca | Governance WG/ Mental Health and Addiction/Financial Oversight /Priority Populations |
| Carol Stewart-Kirkby | Executive Director | Portage Medical FHT | carol.stewart-kirkby@portagemedicalfht.ca | Communication &Engagement/ Financial Oversight |
| Frank Ruberto | Executive Director | Niagara Medical Group FHT | fruberto@hotmail.com | Governanace/Digital Working Group/Financial Oversight/ Home and Community Care/ Priority Population working Groups |
| Jenny Stranges | Program Director | Quest CHC | jstranges@questchc.ca | Integrated /Financial Oversight/ Measurement and Indicators working groups |
| Tim Siemens | Chief Executive Officer | Radiant Care | tims@radiantcare.net | |
| Laura Blundell | Executive Director | NFCHC | Lblundell@nfchc.ca | Governance WG, Financial Oversight Working group |
| Walter Sguazzin | Executive Director | United Mennonite Home | wsguazzin@umh.ca | |
| Henriette Koning | Director, Seniors Services | Niagara Region | henriette.koning@niagararegion.ca | Home and Community Care |
| Jackie Barrette-Greene | Executive Director | Positive Living Niagara | jackie@positivelivingniagara.com | Health Equity Working Group |
| Carol Nagy | Executive Director | Hospice Niagara | cnagy@hospiceniagara.ca | Governance/ Health Equity/Financial Oversight |
| Linda Boich | Executive Vice President | Niagara Health | Linda.Boich@niagarahealth.on.ca | Communication and Engagement WG, Governance Working Group/ Financial Oversight |
| Kevin Smith | Chief | Niagara EMS | kevin.smith@niagararegion.ca | |
| Kelly Cimek | Director | Ontario Health | Kelly.Cimek@ontariohealth.ca | Governance/Communications& Engagement/Measurement and Indicators Working Group |
| Dee Tyler | Executive Director | Oak Centre | dee@oakcentre@ca | |
| Nadine Wallace | Executive Director | Contact Niagara for Children's and Developmental Services | nadine@contactniagara.org | Communication and Engagement/ Integrated Working Group/Health Equity |
| Carolyn Askeland | Executive Director | CSSN | caskeland@cssn.ca | Governance/Communication and Engagement/ Home and Community |
| Sarah Cannon | Family Engagement Lead/Family Member | Pathstone | scannon@pathstone.ca OR scannon@cogeco.ca | Governance/Communication and Engagement/ Mental Health and addictions/ Intgrated Cre Working Groups |
| Annie Boucher | Senior Health Planner | Entité 2 | aboucner@entitesante2.ca | Communication and Engagement/ Health Equity Working Group |
| Elizabeth Davis | Director, Patient Care | HNHB LHIN | elizabeth.davis@lhins.on.ca | Home and Community Care |
| Meghan Thomas | Regional Director | March of Dimes Canada | mbull@marchofdimes.ca | Home and Commuinty Care |
| Jori Warren | Patient/client/ family/caregiver | | jwarren7@sympatico.ca | Home and Communiy Care |
| Taralea McLean | Executive Director | Bridges CHC | taralea.mclean@bridgeschc.ca | Home and Communiy Care |
| Sabrina Piluso | Quality Improvement Director | CSCHN | sabrina.piluso@cschn.ac | Priority Population Working group/Measurment and Indicators Working group |
| Nancy Garner | Executive Director | Quest CHC | NGarner@questchc.ca | Governance/ |
| Bill Helmeczi | Director of Strategic Initiatives, Standards, and Practices | Pathstone | BHelmeczi@Pathstone.ca | Priority Population/Financal Oversight/ Measurement and Indicators Working group |
| David Ceglie | Vice President of Clinical Operations & Interim EVP | Hotel Dieu Shaver | david.ceglie@hoteldieushaver.org | Measurement and Indicators Working group |
| Lisa Panetta | Associate Director, Mental Health | Niagara Region Public Health | Lisa.Panetta@niagararegion.ca | |
| Dariaja Vujosevic | Lead Physician | Garden City Family Health Network | drdvujosevic@hotmail.com | |
| Frank Grego | Executive Director | Brain Injury Association Niagara | fgreco@bicr.org | |
| Diane Martin | Patient/client/family/caregiver | | ladydi10@cogeco.ca | Financial Oversight Working Group |
| Judy Hoover | Executive Director | Consumer/Survivor Initiative of Niagara | consumer.survivor@bellnet.ca | |
| Nancy Ryan | Executive Director | Fort Erie Meals on Wheels | femow@bellnet.ca | |
| Marianne McRae | Executive Director | Meals on Wheels Niagara Falls Ont. Inc. | | |
| Kim Beauparlant | Program manager | Meals on Wheels Port Colborne Inc. | | |
| Carolyn Triemstra | Dean, community &health services | Niagara College | ctriemstra@niagaracollege.ca | |
| Dr. Patrick Gibney | Lead Physician | Niagara Falls Family Health Organization | | |
| Jim Borysko | Executive Director | Welland McMaster Family Health Team | jborysko@wellandmcmasterfht.com | Financial Oversight Working Group |
| Albert Calaguiro | Executive Director | The Wayside House of St. Catharines | waysidewayside@cogeco.ca | |