What are Ontario Health Teams?
Introduction
Ontario Health Teams are a new model of integrated care delivery that will enable patients, communities, providers, and system leaders to work together, innovate, and build on what is best in Ontario's health care system.
Through this model, groups of health care providers will work together as a team to deliver a full and coordinated continuum of care for patients, even if they're not in the same organization or physical location.
As a team, they will work to achieve common goals related to improved health outcomes, patient and provider experience, and value.
The goal is to provide better, more integrated care across the province. This new model of care has been called Ontario Health Teams (OHTs).
Ontario Health Teams are groups of providers and organizations that are clinically and fiscally accountable for delivering a full and coordinated continuum of care to a defined geographic population.
Current and future state
The current state image below depicts the state of health care provision previous to the introduction of the OHT model: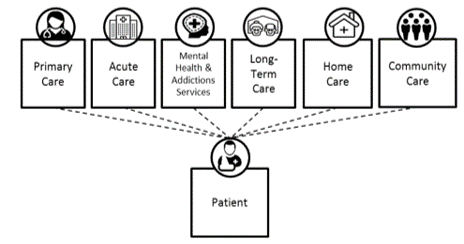 With the introduction of the OHT model, community members will receive all their care, including primary care, hospital services, mental health and additions services, long-term care, and home and community care from one team.

Eligible organizations
Local providers are encouraged to self-organize and determine how to best come together to serve their local population and how to work to provide a full and coordinated continuum of care. Although not all local providers may be at the same level of readiness to partner in this model, early and ongoing conversations across the spectrum of care are still encouraged. Interested providers can come forward with a plan to expand partnerships over time.
As described by the Ontario Ministry of Health, the following organizations are eligible to participate in the OHT model:
Primary care (including inter-professional primary care and physicians);
Secondary care (e.g., in-patient and ambulatory medical and surgical services, including specialist services);
Home care;
Community support services;
Mental health and addictions services;
Health promotion and disease prevention services;
Rehabilitation and complex care;
Palliative care (e.g., hospice);
Residential care and short-term transitional care (e.g., in supportive housing, long-term care homes, retirement homes);
Long-term care home placement;
Emergency health services;
Laboratory and diagnostic services;
Midwifery services; and
Other social and community services and other services, as needed by the population