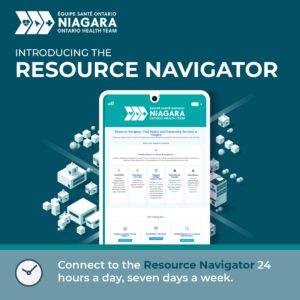 St. Catharines, ON – Niagara residents have a new online tool to search for local and provincial health care and social services offered in the region. Launched today, the Resource Navigator webpage consists of several categories that enable people to quickly identify the services they require, 24 hours a day, seven days a week.
"We know people often struggle to find the appropriate care they need, particularly when experiencing a difficult time or crisis. Sometimes, agencies and health care practitioners are also not aware of the services that exist in the community which could benefit their patient or client," said Sabrina Piluso, Director of Planning for the Niagara Ontario Health Team – Équipe Santé Ontario Niagara (NOHT-ÉSON).
"By making information easier to find through the Resource Navigator, we hope to facilitate better health outcomes and experiences for people here in Niagara."
The 24/7 Navigation project team engaged extensively with the region's patients, clients, families, caregivers, and community groups to identify existing health care and social services. The information is presented in a manner that is tailored to the person's needs.
Some categories listed at www.noht-eson.ca/resourcenavigator include Urgent and/or Crisis Support, Home Health and Community Support, Indigenous and Francophone Health and Community Services, and Older Adult Care Services.
"If I am a newcomer, an Indigenous person, or a caregiver, I can identify different pathways to find the help that I require," added Piluso.
"Also, I can proactively find services wherever I happen to be in my health care journey, and I can prevent my concern from becoming a crisis. The Resource Navigator provides information in a convenient and coordinated manner, enabling people to be at the center of the decision-making regarding their health and wellbeing."
The Resource Navigator is also available in French at www.noht-eson.ca/fr/explorateur-de-ressources.